Case Study
Tinder gets mobile app polls for their Rock The Vote campaign
Overview
Members of the Codingscape team created a custom solution for Tinder and Rock The Vote to power a voter activation campaign within the Tinder mobile application during the 2016 U.S. Presidential campaign.
This custom solution ultimately underpinned many white label advertisements on the platform.
What Tinder said about our work
Here's what Tinder had to say in their blog post about the activation:
"Three debates down. Two weeks until Election Day. One new President of the United States. The whole world is watching – and now it's time to Swipe the Vote.

This election marks the first time in history that essentially all millennials are old enough to vote.
In fact, millennials will play a larger role in this election than in any other – from the big decision to the global conversation – which is why we're bringing Swipe the Vote to our users around the world."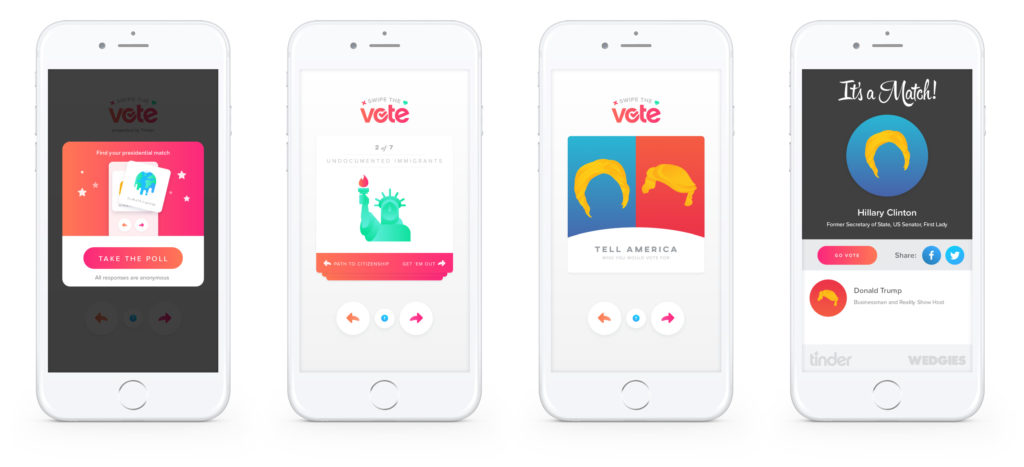 Solution
Starting today, in partnership with Rock the Vote, Tinder users in more than 15 countries will have the opportunity to swipe on some of the most important issues facing American voters, from immigration to climate change, to find out if they're #WithHer or on the #TrumpTrain – and whether their stances truly match with the candidate they've been supporting.

When you see the 'Swipe the Vote' card, simply tap on the card and swipe in the direction of the choice you agree with. To learn more about the issue, just tap the card before you swipe.

Before you're matched with a candidate, you'll be asked whom you would choose to be the next President of the United States. Will your choice be consistent with your swipes?

Once you've matched with a candidate, you can learn more about them by tapping on their names. And, if you're swiping in the U.S., you can locate the closest polling location so you know exactly where to be on November 8th to cast your ballot.

The 'Swipe the Vote' poll will be available to users in the U.S., Argentina, Australia, Brazil, Canada, Chile, Colombia, France, Germany, India, Japan, Korea, Mexico, Russia, Spain and the U.K.

The 'Swipe the Vote' experience was built in collaboration with Wedgies, a real-time polling platform.

Of note, Wedgies's partners are Codingscape's partners, and much of the Codingscape team remains the same!
Conclusion
Swipe the Vote polling launched in 16 countries
Tinder's Swipe the Vote mobile app polling feature from Codingscape enabled their campaign across 16 countries. This custom software solution eventually became the framework for many of their white label mobile ads.